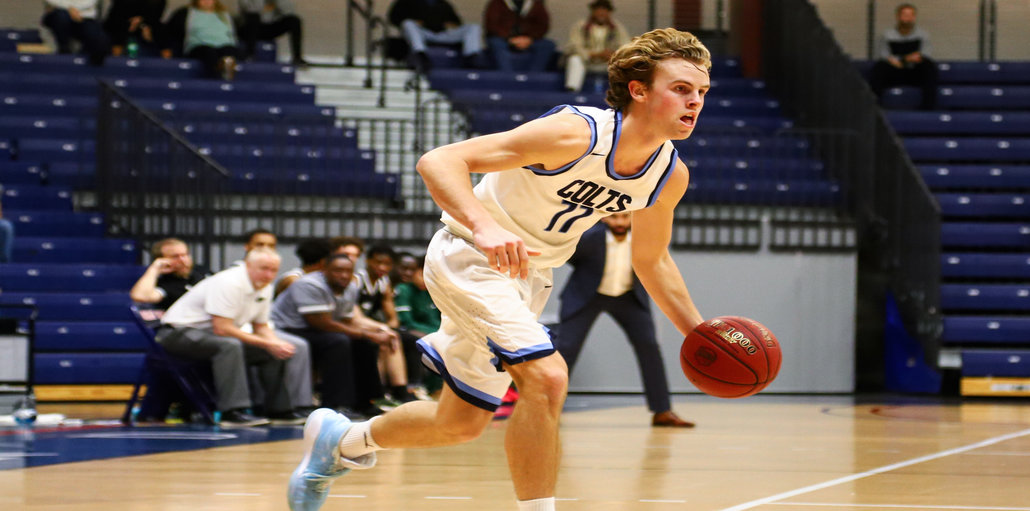 CBA Basketball Athlete Spotlight: Mike White '21
This year, the varsity basketball team has had one of the more unique seasons in the program's history.  It has been a season full of big games, injuries and revenge wins against some of the best teams in the Shore Conference for a young Colts lineup.  
With a 12-9 record, the team has won eight out of their last nine games, and has been led by an unorthodox junior and sophomore dominated lineup – with only two seniors on the roster.  One of the team leaders is junior standout Mike White, who has been a mainstay on the team since his freshman year.
White has been playing basketball since his days in grammar school at H.W. Mountz Elementary School in Spring Lake.  He has also played travel basketball for Jersey Force since seventh grade, as well as spent time on the Titans, a Mid-Monmouth basketball team.  
Before his career at the Academy, White realized he loved the sport from an early age.
"I have had a lot of memorable games [before the Academy], from winning the Mid-Monmouth championship to scoring 30 points in middle school, but the most memorable game was winning a three-on-three tournament with my friends in fourth grade," White said. "That was the time I realized that I loved this sport and the reason why I dedicate so much time to the game."
There are many reasons why White loves playing basketball at such a high level, but especially because of the overall competitiveness of the sport.
"It is the hardest sport to play on the next level because everyone can play, and get better no matter where they are from," White said. "I love seeing where I stack up against other great players and athletes."
As the team progresses into the final stage of the regular season and begins the postseason, White reflected on what his favorite moment has been through his first three years. 
Fittingly, White has enjoyed playing against RBC in the annual Founders' Cup matchup to end each regular season. He believes that the atmosphere is more electric than any other game in the season, and playing in front of his cheering classmates contributes to the epic showdown between the Catholic school rivals.
He gets another chance to battle the Caseys this Saturday when CBA visits RBC.
In the future, White hopes to continue his basketball career in college, but understands that he may be led down another path when that time comes.
"I am willing to consider any college that would help me grow and become a better person," White said. "But if it's not God's plan for me to play at the next level, then I would pursue other activities and studies."
In the meantime, White's focus is on finishing his junior year strong by leading CBA deep into the postseason.