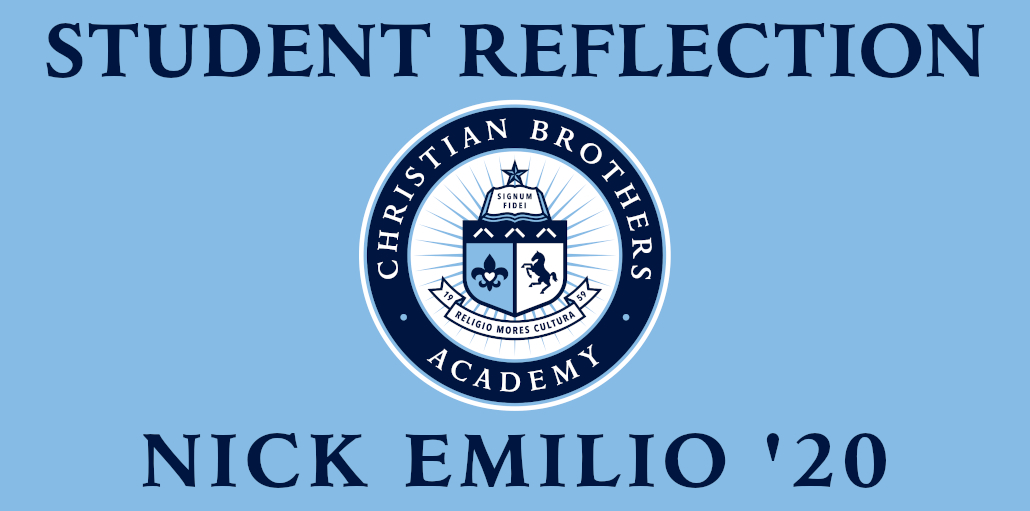 Reflection Series: Nick Emilio '20
With the CBA campus closed due to the worldwide coronavirus outbreak, students have been encouraged to submit their thoughts on this unexpected development in the school year.
Here is a submission from Nick Emilio '20, who serves as CBA's student council president.
---
First off, I hope everyone in the CBA community is doing well under the current circumstances.
I'd like to begin by saying that I truly miss everyone and hope I can see everyone soon.
These are uncertain times and there are many unknowns. When will we be able to go back to school? Will we even get that chance? Will my fellow spring athletes get to play any part of a season, especially my senior classmates?
There are many unknowns and questions with no answers right now. Unfortunately, there is nothing we can do about those questions right now, but we can listen to local officials and practice social distancing.
I know how frustrated everyone must be by staying at home all day, because I struggle with this myself. I strongly suggest, especially for spring athletes, to stay active even at home in any way you can. Whether that is doing at-home workouts, hitting the lacrosse ball against the wall, or playing in the backyard with a sibling. Another thing I have been doing is watching past CBA Athletics videos from Jersey Sports Zone, especially the hockey state championship highlights.
I would like to applaud the CBA faculty and administration for their efforts concerning online learning. It truly has been a tremendous effort given the circumstances. Powerschool has been very frustrating, however it's getting better everyday and we shouldn't get too worked up about that.
My final thought for everyone is to stay positive through this, no matter what is thrown our way. The CBA community is strong and I know we will persevere through these unsettling times.
Nick Emilio '20, Student Council President