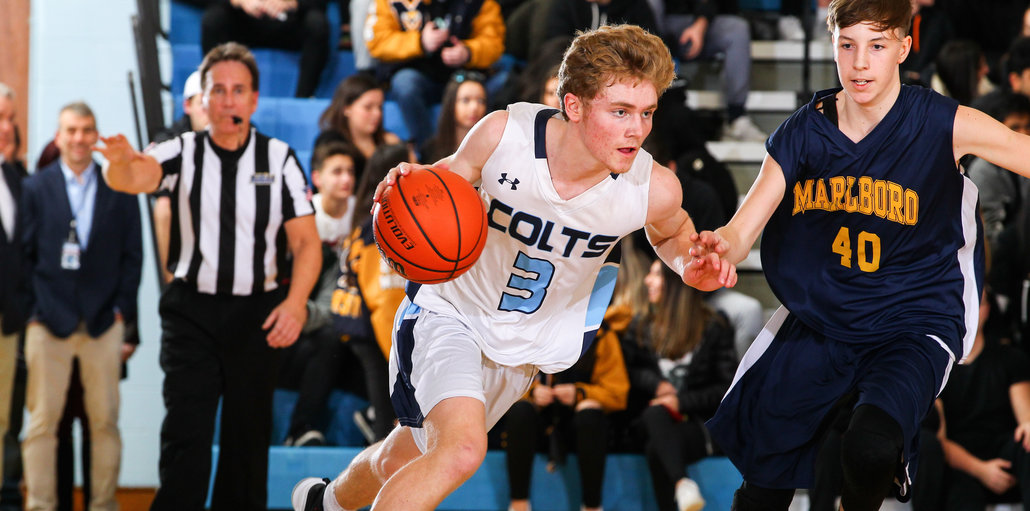 Sophomore Breakout Continues to See Big Minutes on Varsity
Typically, high school basketball teams consist of a junior varsity level and a varsity level. Those who make JV will stay on that team permanently, and those on varsity will do the same.
At CBA, one sophomore has earned himself some action at both levels so far this season. First making the JV team, he has shown off his skill and athleticism to the coaches, enough so to give him some varsity minutes.
His name is James Durney, a 5-foot, 10-inch, 150-pound point guard. It was already impressive enough to see him make the JV team, as only three out of the 14 sophomores who tried out made the cut.
However, Durney had other plans. Since the first day of practice, he has proven to the coaches that he deserves to be on the team and plans to contribute during his time there. 
Durney has seen varsity minutes in multiple games this year as well as a starting spot on JV. He has flashed his quickness with the basketball in his hands as well as a lethal pull-up jumper.
"Being on the varsity team has really brought my game to the next level," Durney said. "Working and playing with the guys has really developed my skills and I can't wait to see what the future holds for me."
Durney has been off to a tear in his sophomore season and is showing that hard work is truly the factor to becoming a great player. He has clearly gained much confidence and has already exceeded his own expectations.
"At the beginning of the year, I was a small sophomore on JV," he said. "As the year has gone on, as I've been practicing with varsity, it has increased my strength and fast-forwarded my game."
Varsity sits at 9-8 and has been on a tear lately with a scorching hot five-game win streak. They look to make a run at the top of the Shore Conference with eight regular season games remaining. 
The sophomore stud hopes to keep contributing to the team's success this year on both levels and is ready for any of the challenges brought to him this year. Admirably, Durney has proven hard work can get you to where you want to be and determination is the key to success.