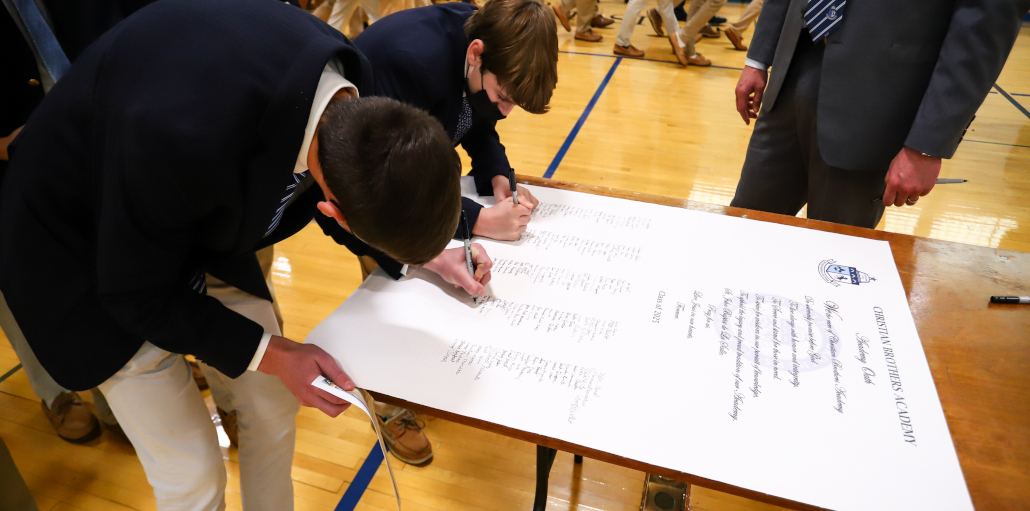 Anthony Venezia's Freshman Oath Day Experience
On Wednesday, October 13, Freshman Oath Day was held for the CBA Class of 2025.
I had not heard much about the event going into the day. In fact, I had anticipated that this ceremony would entail a simple oath signing, the repetition of the words on it, and then the day would be over. In other words, it seemed to me that Oath Day would not be anything special. There would be a long assembly, maybe a ceremony, and just another paper to sign. It wasn't until I truly listened to our guest speakers and their wisdom that I began to realize that this day was more than just the signing of an oath and the mindless repeating of words. 
Coming off of a four-day weekend, my classmates and I wanted nothing more than for Oath Day to go by as fast as possible. It looked as though our wish was granted. The day did cruise by rather fast. However, this was not your average "fast and easy day." In fact, the exercises that questioned our morals and character filled the day with some tough questions, and plenty of time for deep thinking.
To start off the day, we entered our homeroom as usual, but there was a piece of paper waiting on our desks. This was a list of questions about our values. For example, there was one scene in which the "smart kid" left his paper open to all students, and the teacher was not in the room. The question was simple: "Would you take a look at his test?" With all the scenarios this piece of paper presented, the wheels in my brain were in constant motion.  As I was reflecting and thinking about these questions, the bell rang, and it was time for our guest speaker. 
As it turned out, our guest speaker was Mr. Neil Begley, my principal from Saint Leo the Great School. Mr. Begley started off his speech by reminding the freshmen of the immense responsibility of being an Academy man, and what it meant to sign the oath. He told us that by signing the oath, we are not only committing ourselves to do everything through Jesus' name, but we are also expected to carry out the core CBA values in our everyday lives. One segment of his speech struck me in a most empowering way.  Mr. Begley reminded the freshmen that when a respected adult such as a teacher or a parent gives us advice, it is in our best interest to accept that advice and learn from our mistakes. This reminder had me reflecting on all the times I was able to learn and grow when I finally gave in and listened to my parents' advice. 
Mr. Begley shared with us that as a teenager, his father gave him a piece of advice that he will never let go of. His father told him, "the choices you make impact the life you lead." Mr. Begley's speech helped me realize the importance of each decision we make as a building block in the development of our own personal character. Throughout my CBA journey, I will make sure to put my best foot forward at all times, because even the smallest decisions can have a large impact down the road. It is my hope that in the years to come, the future CBA freshman class will find their own personal insights and inspiration from Oath Day. 
–  Anthony Venezia, CBA Class of 2025.