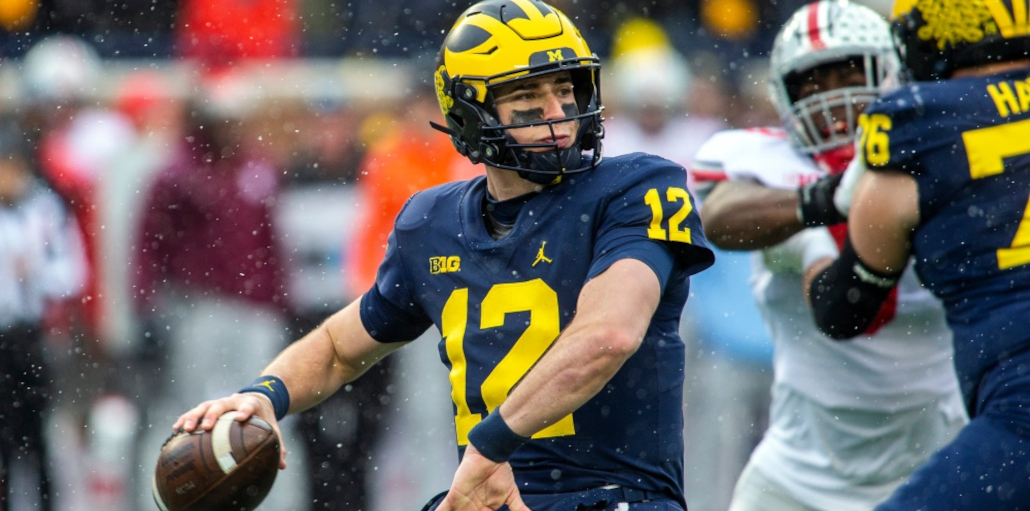 Antonucci's College Football Primer: Championship Weekend
College Football's conference championship weekend has arrived and the stakes are high as always.
Lifting a conference championship is a huge accomplishment and College Football Playoff spots will be decided this weekend. 
Georgia looks to be a lock for the Playoff, while Alabama, Michigan, Cincinnati and Oklahoma State will be looking for a win to secure their spot. 
With all that being said, let's get into this weekend's games.
Interesting Non-Power 5 Championship Games
Western Kentucky (8-4) at UTSA (11-1), 7 p.m. ET (Friday)
Early in the season, UTSA defeated Western Kentucky 52-46 on the road. With the Roadrunners hosting this weekend's matchup with the Conference USA Championship on the line, it's easy to give UTSA the edge in this matchup. However with UTSA sluggish finish to the season, it does not seem as much of a lock as it was before. WKU hasn't allowed more than 21 points in any of its games in its 7 game winning streak. 
PREDICTION: Western Kentucky 42, UTSA 28
Houston (11-1) at Cincinnati (12-0), 4 p.m. ET
Easily the biggest "Group of 5" games of the weekend, as Cincinnati is fighting for one of the coveted four spots in the College Football Playoff. With the AAC championship, the Bearcats only need a loss of any of Alabama, Michigan, or Oklahoma State to secure a spot in the playoff. 
Will the Bearcats win? Yes, but it won't be pretty by any means. The Bearcats have a habit of playing poorly in the second half, and with a team like Houston who has typically has big second halves, it won't be as much of a cakewalk as it should be. 
PREDICTION: Cincinnati 42, Houston 38 
Power 5 Championship Games 
Oregon (10-2) vs. Utah (9-3), 8 p.m. ET (Friday)
Two weeks ago, Utah ended any hope for Oregon's playoff hopes. They obliterated Oregon 38-7, where the margin was shocking but the win was not. Utah has been a better team since October, anchored down by a defense in their five game winning streak. Oregon desperately needs their run game to show on Friday if they expect to win. 
PREDICTION: Utah 30, Oregon 24
Baylor (10-2) vs. Oklahoma State (11-1), Noon ET
One of the worst coaches to have a College Football Playoff berth at stake against is Dave Aranda. He may not have his normal elite defense, but he always has something up his sleeve to throw at you. But, with the Bears quarterback dealing with a leg injury it will be hard for them to win. With Oklahoma State's top four defense and the possibility of a backup QB in for the game this game can get real ugly real fast.  
PREDICTION: Oklahoma State 28, Baylor 13 
Georgia (12-0) vs. Alabama (11-1), 4 p.m. ET
Alabama will need their best version of the Offense to even contend with Georgia's defense. The top ranked defense has given up less than a touchdown per game. The problem right now is Alabama's offensive line, as they have given up ​​nine tackles for loss and 10 sacks in recent wins over Arkansas and Auburn. Georgia will look to absolutely work that offensive line. Turnovers seem the only way that Georgia doesn't come out on top. 
PREDICTION: Georgia 28, Alabama 10 
Michigan (11-1) vs. Iowa (10-2), 8 p.m. ET
The question in this game is which run game will show up? The answer is most likely Michigan. Michigan shredded Ohio State with 297 rushing yards in their win. Iowa has a great defense, but their running game that they keep leaning on regardless of performance is 113th in the country. Michigan will win the Big Ten and head off to the Playoff.
PREDICTION: Michigan 28, Iowa 17 
Pitt (10-2) vs. Wake Forest (10-2), 8 p.m. ET
While the Big Ten game will feature great defense, the ACC will feature the most points scored in the weekend. Heck, they might score more points than the rest of the weekend combined with these two high flying offenses. Neither team is in contention for the Playoff, so the stakes are lower than the rest of the weekend. But, this might be the greatest game this weekend. Pitt has had the better defense giving up 23.3 points per game, while Wake Forest has given up 36.5 points per game since October. This game will be a matter of who can get a stop on defense. 
PREDICTION: Pitt 45, Wake Forest 42 
College Football Playoff Prediction
Georgia 
Michigan 
Oklahoma State
Cincinnati
(Photo by USA Today.)