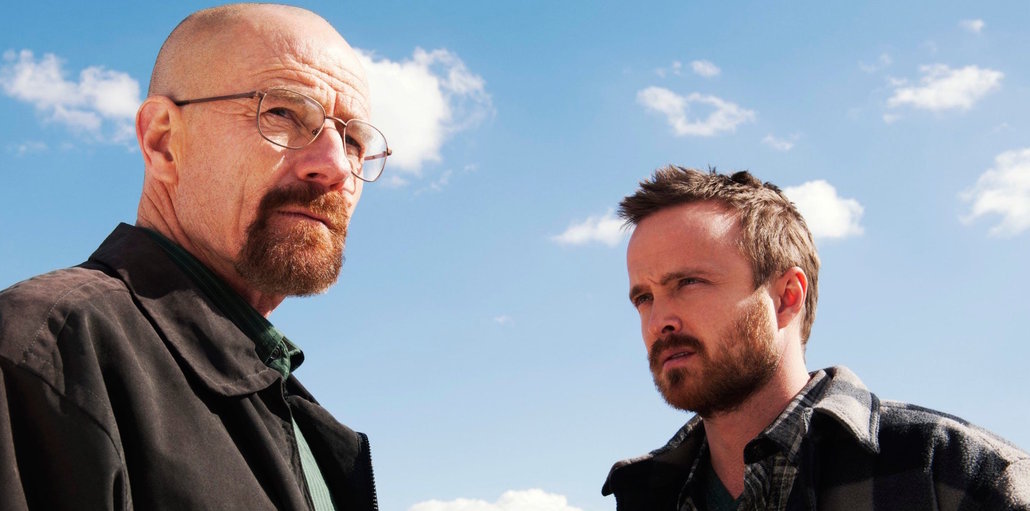 Binge watching the Breaking Bad series in one week
With this quarantine in full effect, there is usually not much to wake up and be excited about – most of the days are the same. But for about a week, I had something I was REALLY looking forward to: binge watching Breaking Bad.
After binging all five seasons, I realized I had just watched one of the greatest television shows of all time. The show stars Bryan Cranston as a mild-mannered chemistry teacher Walter White, who finds out he has lung cancer. Aaron Paul is a former chemistry student of Walter's and a high school dropout, who is a drug dealer. When Walter gets diagnosed with lung cancer, he realizes that he is probably going to die soon and leave his family in a massive debt. To earn money for his family, he decides to participate in making drugs with his partner (Jesse Pinkman). While making these drugs, Walter soon gets involved in many dangerous affairs and takes the alter ego of "Heisenberg" and as the show goes on, viewers will see how the man Walter White "breaks bad" and fully transforms into the "Heisenberg" alter ego as the show progresses.
Season I
This first season is one that I appreciate, but would say it was the weakest of all the seasons, while still vital to the storyline. This season is all about Walter White, and develops White's character as one that an audience can care about, which is why the audience roots for him in this season. This first season is here to show the audience who Walter White is. This is crucial because the show is so fascinating by the end to see the character progression of Walter White into "Heisenberg." This progression is so fascinating in the end because of season one, how much we liked Walter and cared for him and felt bad for him, and this was the job of season one, setting up Walter White as a sympathetic character. This season is the weakest because it is only seven episodes long and the show drags just a little bit. The highlights of this season are episodes three (…And the Bag's in the River) and six (Crazy Handful of Nothin'), because these two episodes are vital in Walter White's characterization. In the end, this season is fantastic, but just not as fantastic or filled with the memorable moments that the other seasons are filled with.
Grade: B+ 
Season II
Season two is a very unique one for the reason that it starts out so strong, settles, and then explodes again at the end (literally). To begin, this season is about Jesse Pinkman, and he is personally my favorite character in the entire show, so this season had an edge over all the others. This season's job is to make Jesse the most "human" character in the entire show. Putting Jesse through certain situations in this season can make the viewer feel as if Jesse Pinkman is really a good guy, just in the wrong situation. This season benefits from multiple fantastic performances from Aaron Paul, and there are some iconic symbols in this season that the show is still to this day known for. The purple teddy-bear that keeps appearing at the beginning of episodes is ominous, haunting, and very intriguing for viewers. The one gripe I would have with this season is the fact the season ends in such an odd way, that viewers will not think that the buildup to the finale was worth it. Some of the best episodes from this season include episode two (Grilled), episode six (Peekaboo), episode eight (Better Call Saul) and finally episode 12 (Phoenix). In the end, this season is a masterclass in developing a sympathetic, complex character in Jesse Pinkman, and sets up the characters journey of being used and abused by people of power. 
Grade: A-
Season III
If people are still not feeling the show through the first two seasons, this is where the show starts to get really good. Season three is a season that starts to explore the consequences of Walter White and Jesse Pinkman's actions on the people they care about. This season is so action packed, and thrilling and it is in this season where my favorite moment of the entire show happens (end of episode twelve named Half-Measures). This season is so good because it does a fantastic job of displaying the consequences that can come from the drug-making empire that Walter and Jesse are now a part of, and in command of. This season starts off slower than other seasons do, but it is in this season where (for the first time really) we are able to view what a true "second part" of a season Breaking Bad brings to us. The audience also meets Gus Fring (played by Giancarlo Esposito) and the audience quickly realizes that he is going to become a large part of the show. From the eighth episode of season three to the end of the show, tensions are raised to a point where it is hard not to try and binge every episode. The one potential gripe with this season is that there is an episode mid-season that is pure 'filler', this is episode ten (Fly), while it does provide great character development for both Jesse and Walter it really is a "pointless" episode during the season. Other than that though, this season is fantastic and it ends in a way that'll warn you to "buckle up" because this show is about to get nuts. Some episodes that stand out in this season are episode seven (One Minute), episode twelve (Half-Measures) and episode thirteen (Full Measure). In the end this season comes in third place out of all the seasons, and the end of this season sets up the madness that is going to occur in the next two seasons. 
Grade: A
Season IV
Wow….this season is a perfect season. This season is all about the trouble that is occurring between Walter, Jesse and their employer, Gus Fring. This is the season that contains some of the most iconic moments in all of Breaking Bad. I will attempt to be as spoiler free as possible, but this is a season that truly reveals that Walter White is not Walter White, he is "Heisenberg". Jesse is put through even more trials through this season, and Gus Fring runs the show now. We learn more about Mike Ehrmantraut (played by Johnathan Banks) who becomes a fan-favorite as the show goes on. Jesse and Walter in this season go through a series of trials that define who the characters will be in the final season of the show. The end of this season is the best end to a season that this show will bring. The final four episodes of this season (Salud, Crawl Space, End Times, and Face Off) are all among my personal favorite episodes of the entire show. It is in this season that Bryan Cranston proves to be among the better actors living today, as I literally forgot who Cranston was, I was so immersed in him being Walter White that I forgot he was an actor that was portraying a character. Episodes like Crawl Space and End Times are so intense and thrilling that one can not possibly predict how each one will end, and these are some of the best episodes of all of Breaking Bad. The finale will also leave you satisfied and questioning, "What could possibly happen next?" In the end, I have zero flaws with this season, everything is fantastic and the only possible gripe I could have with it is that it is the second best season of Breaking Bad simply because the next season is some of the greatest moments of television, and entertainment history all put into one season.
Grade: A+
Season V
This final season is even more perfect than before. It is rare that I watch a sixteen episode season in two days, and when I finished I didn't feel happy I finished, I was actually the opposite. I was devastated when I finished because I didn't want to, but I couldn't stop watching. In this season, Walter White is gone, he is full on "Heisenberg" now. This is a season where you literally can't breathe, every episode is vital, tension filled, and you do not know what will happen next. The season starts out with an action packed premiere (Live Free or Die) and continually gets more and more insane as it goes on and nears a finish. Characters like Hank, Walter, Jesse, Mike are all tested more than ever in this season, and all these characters reveal their true intentions in their own lives. The reason this season is so beloved by everyone that has watched the show is because of how absurd the ending to the show is. It is literally perfect. I don't want to spoil anything but if you have made it to season five of this spectacular show, you will be rewarded. Of course everything is subjective, but in my opinion this show finishes perfectly, and it could not have wrapped any better. The final season confirmed that this is most certainly (no question) the best television show I have ever watched. Some of the standout episodes of this season are episode one (Live Free or Die), episode four (Fifty-One), episode five (Dead Freight), episode seven (Say My Name), episode eight (Gliding Over All), episode nine (Blood Money), episode eleven (Confessions), episode thirteen (To'hajiilee), episode fourteen (Ozymandias), and episode sixteen (Felina). Couldn't recommend this season enough, it is the final and greatest season not only of Breaking Bad but of any television series I have ever seen. 
Grade: A+
To conclude, just watch this show.