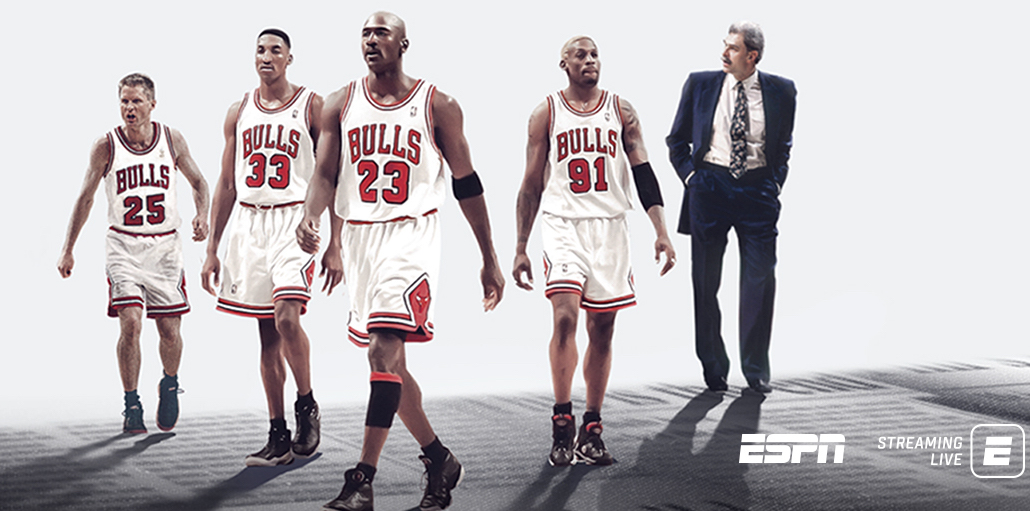 If you haven't watched The Last Dance yet, you should start now
Something that has been lacking when it comes to TV these days is the camaraderie it once brought to everyone in the country. Before endless streaming services, there was just plain cable and most people in the country were watching the same show, the same episode, at the same time. 
With the global virus outbreak still keeping us in our homes, ESPN has recaptured a lot of that feel with The Last Dance, which will air its finale on Sunday night at 9 p.m. If you haven't watched it yet, start binging so you're ready for Sunday.
Much of the country is watching this five-week series together. The reason? Everyone is so interested in the greatness of Michael Jordan and the Chicago Bulls.
Whether you lived through the Bulls' six championships or you've just read and watched highlights afterwards, you still want to know more about this incredible, legendary athlete and his team that dominated the 1990's.
If you didn't know or are just not that into sports, this series chronicles the last season of the Bulls' dynasty in the 1997-98 season.
Adding to the intrigue, this footage of the Bulls' 1997-98 season has never been seen before and was taken by a film crew that has not released any of their work till now. Another reason why this series is enticing to everyone is that Jordan was controversial in his career. When it came to things in his private life, people wanted to know more, especially about his gambling habit and relationships with family and friends. This docu-series has played a part in scratching America's itch in that regard.
The series also flashes back to years through Jordan's career, leading up to 1998. You get to see his young career and the obstacles leading up to becoming the greatest player of all-time.
If you are trying to catch up, episodes one through eight have been playing on the various ESPN stations all week and are available to be streamed on ESPN+.
Personally, my favorites have been episodes three, five, and seven. The final two episodes will air on Sunday night, beginning at 9 p.m. These last two chapters in this story are sure to be even more entertaining than the preceding episodes.
Join the millions of people in America in viewing this superb docu-series. You won't be disappointed.