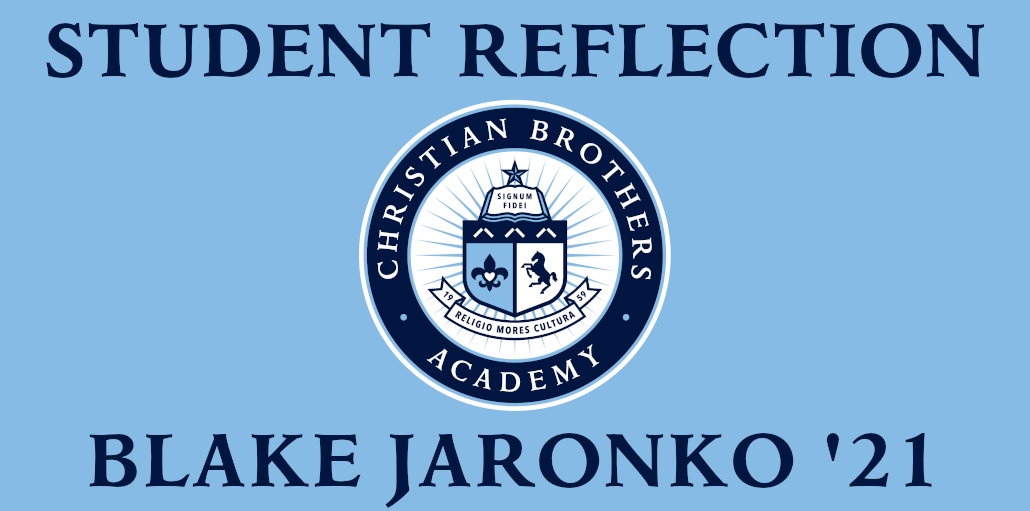 Reflection Series: Blake Jaronko '21
With the CBA campus closed due to the worldwide coronavirus outbreak, students have been encouraged to submit their thoughts on this unexpected development in the school year.
Here is a submission from Blake Jaronko '21.
---
The coronavirus has called for huge adjustments all around the world. For me, and the CBA community collectively, this is uncharted territory. The reason these times are so scary is no one knows when we will be able to return to our normal lives. Students are forced to do school work from home, seniors in high school and college are questioning whether or not they will be able to graduate, and most importantly, many people are being laid off their jobs.
I am fortunate enough to be able to work throughout this quarantine as my job is considered essential. I work in a retirement home in Red Bank called the Atrium. On a normal day, residents would come down to the dining room in the building and I would be a server for them. However, during these times the dining room is closed because we cannot afford to have a large congregation of people in a smaller area. The reason closing the dining room was problematic was because for most of the 150 residents in the building, the dining room was their only source of food. Because of this, my job description has been completely altered to delivery boy and even someone who prepares meals. Now, our work days have gone from about four hours to about nine. We arrive in the morning around 10:00 on a normal day and we call each and every resident about their lunch and dinner orders for that day. We then prepare the food and deliver it to their rooms individually.
One of our biggest challenges is the delivery process. We must wear masks and gloves every time we go up to the residents' rooms. Because of this, there has been a little bit of a shortage on masks, causing us to have to reuse masks for two or three days before we can get a new one. Another major issue is there are five active residents who have tested positive for COVID-19 and are in isolation for at least two weeks. Two residents have unfortunately passed away in the past week due to the virus as well. To ensure someone from outside the building does not take the virus in, we must fill out a form and have our temperature taken every time we come into the building. Additionally, we bring the food up to our designated floors and drop the food on chairs each resident has outside their apartments.
Although it has been very difficult to adjust to the circumstances, we improve and become more effective each day. This is the beauty of the resilience we have as a country. We are able to adapt to the circumstances and make things better. We may bend, but we will not break. I think it is more important to be there, risking my health, so that people are not alone in their apartments with no food, and that is why I choose to work every day. Finally, I urge everyone to abide by the guidelines given by the government. Stay inside, stay home, do your part, and we will get through this!
Blake Jaronko '21