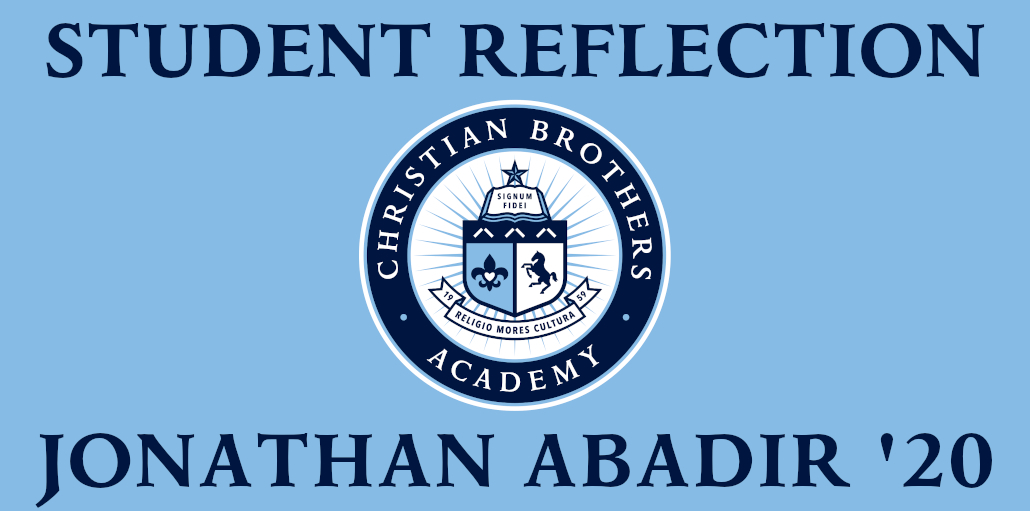 Reflection Series: Jonathan Abadir '20
With the CBA campus closed due to the worldwide coronavirus outbreak, students have been encouraged to submit their thoughts on this unexpected development in the school year.
Here is a submission from Jonathan Abadir '20.
---
Pegasus Production Company has been my home for the past four years. I honestly spent more time in the Henderson Theater than I ever did at home. Most kids spend their summers elsewhere, I did shows on the same stage. It's amazing how a place that was so foreign to me at one time is now going to be so tough to leave.
When I was a freshman, I was lucky enough to have an awesome senior class. I still talk to those guys when I need advice. They took me under their wings and taught me what hard work and dedication truly looks like. I remember the stage manager at the time, Travis, was taking me on my first tour of the theater and I was terrified. I was nervously talking up a storm about how excited I was to join the company and he just smiled at me and said, "I like you." It may seem like such a small gesture, but it meant the world to me. Jeremy, the lead at the time, bowed with his hands at his side and with a sincere smile. He taught me humility. No matter how big or small your role is, everyone is just as important and we all bow the exact same way.
The faculty involved with Pegasus have set an example for me without even knowing it. In the few years that I've known Mr. Lopez, he has taught me so much about being a good musician and an even better human being. Ms. Rak, our choreographer, has pushed me to do things I never would have imagined me trying. She taught me how to dance, and believe me… that was not easy. Mr. Orozco and Mrs. Heidelberger have been great examples of how people can be super effective, while also being the kindest people I know.
Mr. Orozco has unequivocally been there for me throughout high school. The late nights of tech week can really take a toll on you, and so it meant a lot to know that someone really did care. I originally planned to tell this story on closing night of Footloose, but with the uncertainty of that happening, I figured I should say it now. We were on the jazz band trip to Washington D.C., and I went to go pray alone for a moment. When I turned my head to get up, Mr. Orozco was just waiting for me patiently. Everyone left to go to Mass, but I was still praying and he didn't want to interrupt me. I started to break down crying from all the stress I was under, and Mr. Orozco was there for me. He went out of his way to make sure all of us were okay countless times, and it means the world to us.
I don't know where I would be without this company or CBA. I couldn't imagine myself anywhere else. It genuinely made me the person I am today.
Now, my senior year show getting cut short is never how I would've imagined my time ending. For awhile, the thing that honestly hurt me the most was not having the closure of knowing my final bow was indeed my final bow. After long contemplation in quarantine, I finally came to realize that it's not my final bow. I still have my Pegasus family, and that's all I could ask for. When something like this happens, a virus practically shutting life as we know it, we have to keep marching forward through life. The only thing we can control is our reaction to life's absurdity. Shakespeare said life is a play, and we all play a part in that. If life is truly a play, then the show must go on. I have learned that no matter how my time ended, I am happy with the friends and family I have made. From the bottom of my heart, thank you.

Jonathan Abadir '20